Girly Long Arms Sweater!
I can't believe it! I actually finished knitting an entire sweater!!!! I'm so psyched! 
My only gripe about it is that the arms came out a little too long and big on top but honestly, I love long arm sweaters because when it gets cold out, I always end up pulling the sleeves over my hands.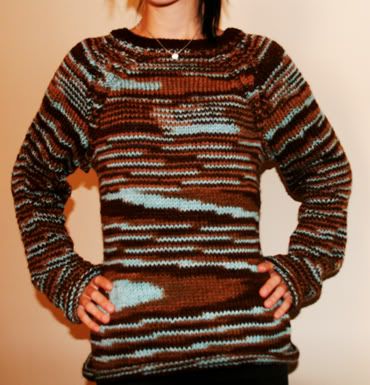 I used the pattern for
Kiki's Cotton Sweater
 only making slight adjustments to the length and arms... and used US 10 circular needles with Red Heart TLC Essentials in "Surf & Turf"... 
but all in all, I'm happy I was able to follow through and finish it. 
I've been truly unproductive today. Job hunting is going nowhere. I had an interview last week for a freelance job with a television news network. It went really well, and sounded like they're going to give me a ring back. :-D
Just have to sit tight and keep my fingers crossed. 
It rained most of the morning so I just took the opportunity to finish my sweater. Now it's almost 6pm, and I hear the ice cream truck is coming down the block, and some guy outside is revving up his custom hot rod. The combination of both sounds are slightly taxing on the ears.